Format builder
The Format builder is a main part of Squey that is fully dedicated to the creation and management of Formats.
Creating a Format can sometimes require some patience and skills but once the Format is ready and properly working, it can be used for a long time. It is usually quickly amortized.
The format builder is able to automatically detect the most commonly used data types. It can for example automatically detect CSV files with the proper separator and quoting characters, a potential header and use it as axes name, but also all the supported columns types !
To begin, try to load a sample of your data file as follow :
Create a format > File > Local file (or any other input plugin type that is supported)


If a header is detected, you will be prompted to use it to automatically fill axes names

If you need to further tweak your format, you can at any time try to detect the axes types again :

Note
Specifying 0 row(s) will perform the autodetection on the whole input data.
Splitters
Splitter are intended to break fields into several sub-fields. They can be nested no matter what their types are in order to produce powerful processing workflows.
Converters
Substitution converter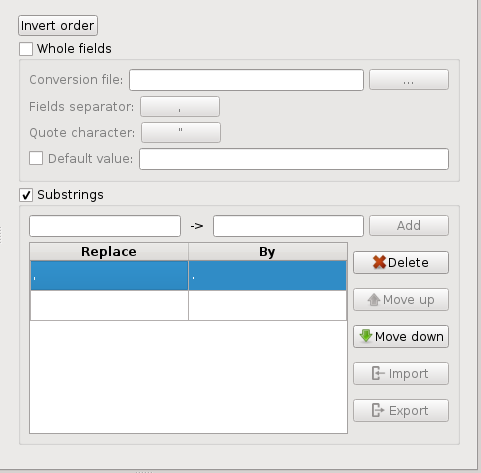 This converter is able to operate in a combination of the following modes :
whole fields : takes a two-columns CSV file as input and replaces each occurrence of a field contained in the first column by its value in the second column.

substrings : replace several substrings
In the first mode, it is possible to specify both the separator/quote characters, and a "default value" option is available to specify the value to give to the field in case there is no match in the CSV file. This could be useful to create a column of security ranking based on the values in a list, for example a list of domains known to be malicious:
"maliciousdomain1.com", "0.1"
"maliciousdomain2.com", "0.5"
"maliciousdomain3.com", "0.2"
"maliciousdomain4.com", "0.3"
"maliciousdomain5.com", "0.2"

Default value: "1"
The second mode comes in handy to slightly tweak values, for instance changing numbers locale :
Struct converter
The struct converter allows to identify structural patterns by removing all the alphanumeric characters of a field.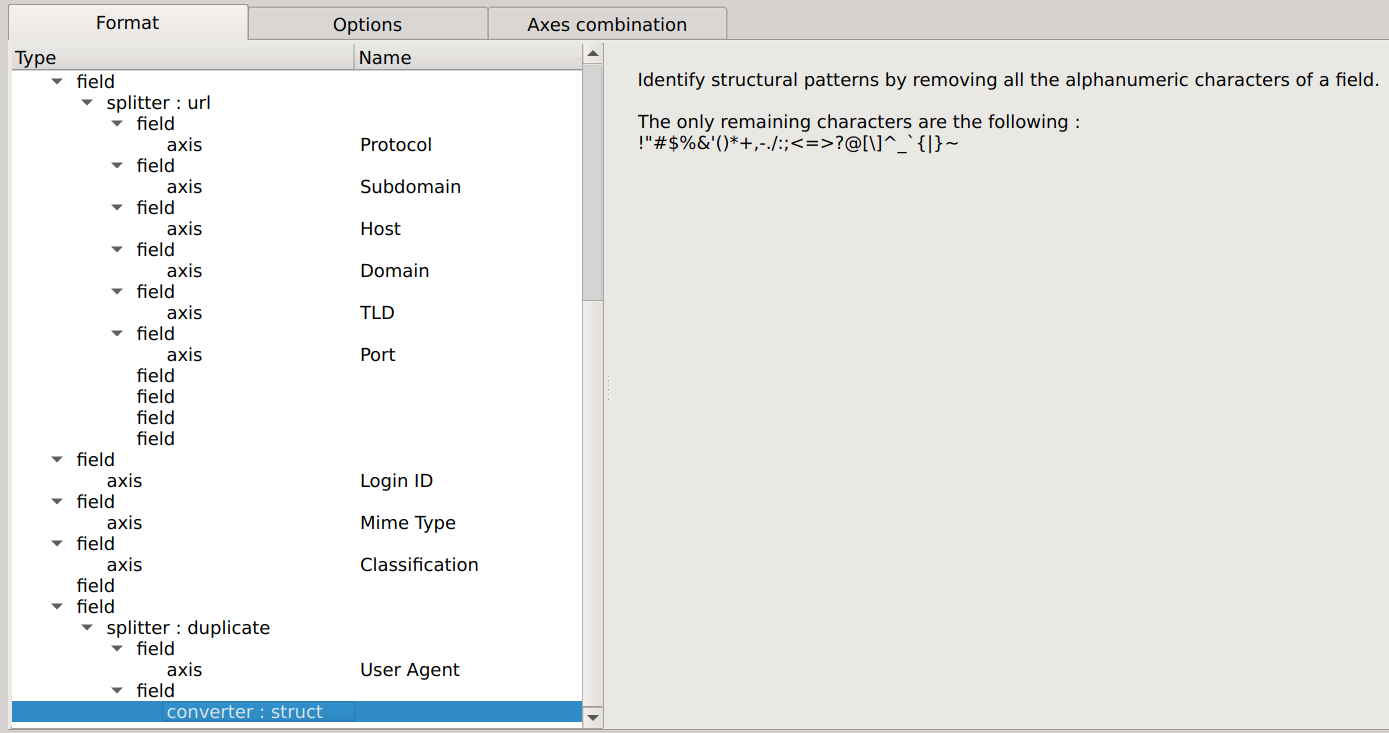 Used on the following URL :
http://mt0.google.com/vt/ft?lyrs=h%40175310222&las=a,b,c,d,e,f&z=8&gl=fr&hl=fr&xc=1&opts=z&callback=_xdc_._1oh0ygtk0b

it gives the following result :
://..//?=%&=,,,,,&=&=&=&=&=&=\_\_._

Note
This converter is not resticted to the entire row : it can be used on any field (can be used in conjuction with the duplicate splitter to keep the origin field). It is also not limited to the first 30 characters…
GUID to IP converter

This converter translates GUID identifiers into IPv4 or IPv6 addresses. It is useful as some products (such as Microsoft Threat Management Gateway) are storing IP addresses as GUID.
Filters
Filters are intended to reduce the number of events contained in the source. A filter is composed by a name, one or more regular expressions (one by line) and filtering property (include/exclude).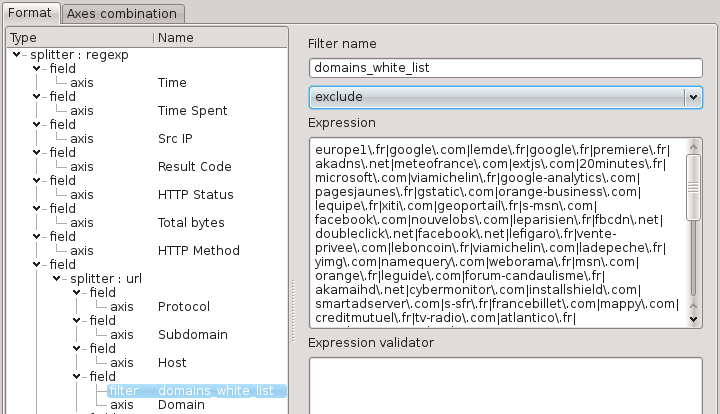 Tree panel
The tree panel represents the format's workflow, the sequence of elements composing the format.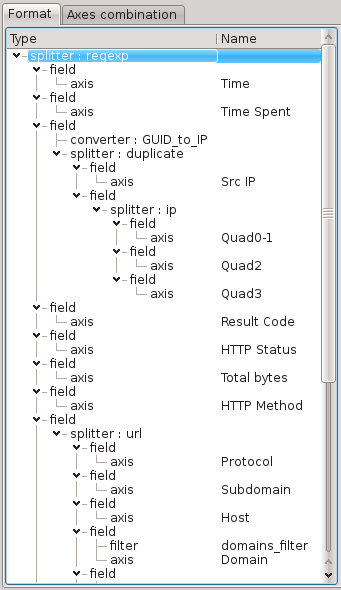 Fields must contain:
Zero or one splitter

Zero or several filters

Zero or several converters

Zero or one axis

At least one splitter or one axis
Clicking on an element displays its properties.
Format preview
The format preview gives a listing preview of the format currently applied on the log sample.

The lines to be previewed can be changed and validated using the Preview button. This can be useful to skip the parts of a sample log file which are not representative enough.
It can also be used to automatically setting all the axes' name by right-clicking on a row and choosing "Set axes' name based on this row"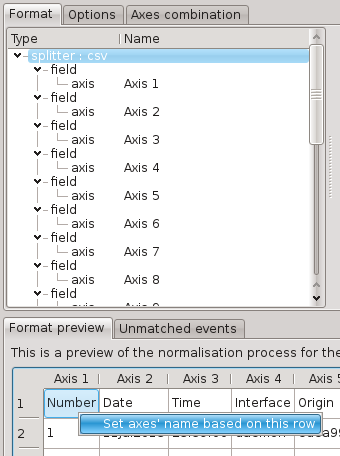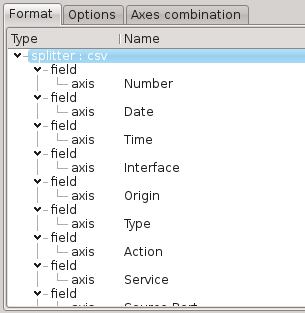 Unmatched events
This panel lists all the lines that don't match the current format. This can be caused by errors in the used splitters or simply because of filters.

Axes combination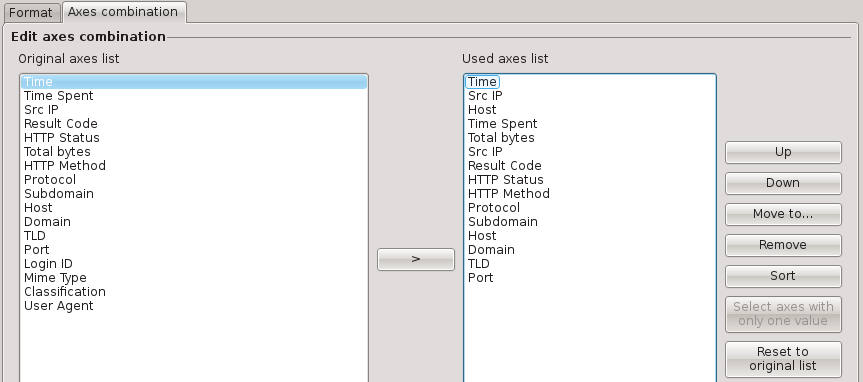 Note
Due to a current limitation, manually resetting the axes combination is needed when changing the number of created axes to avoid axes mismatches.
Other options
Ignoring CSV headers or limiting the number of imported files can be done using the import lines range options.